What's The Difference between a Marketing Coach and a Marketing Consultant? Which Drives the Best Results for Business?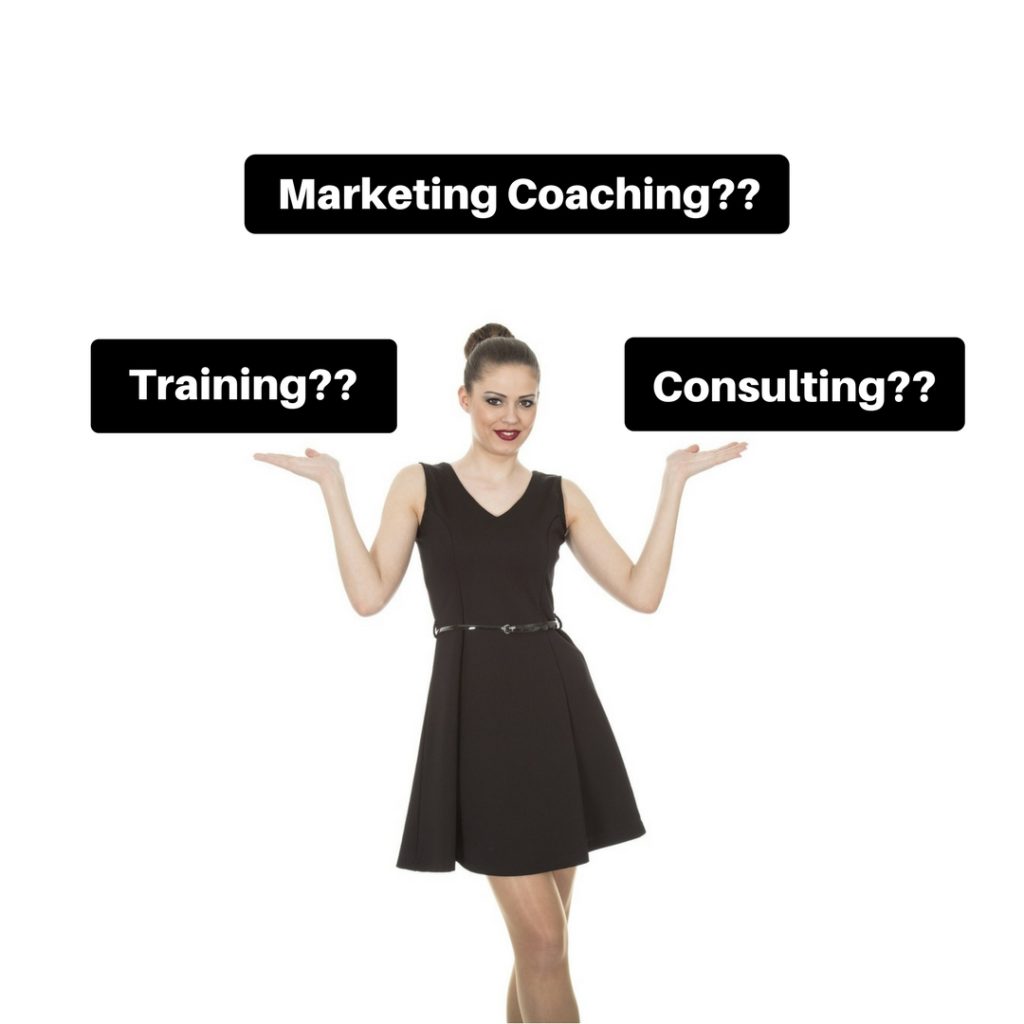 When you're looking for some help with your marketing, who do you hire these days – a marketing consultant or a marketing coach?  Or do you go DIY and attend a training course?   It can be difficult to know which will deliver the best and most effective results for your business.
My background is in marketing consulting and training. Marketing coaching started accidentally for me; some participants in one of my training workshops asked me if I would do follow up sessions with them and these meetings then took the form of coaching rather than my usual consulting or training. The results were surprising and the relationships rewarding, so I started to offer marketing coaching as part of what I do. That was a few years back. I still offer consulting and training but I've had enough experience in marketing coaching to reflect on the benefits of all three.
What are the key aspects of being a marketing coach and how does this differ from consulting?
Marketing consultant is a pretty loose term. It can be when a person is hired, either through an agency or as a sole operator, to work in – or with – a business for a period of time. Usually, it's to develop a project, like a marketing strategy or plan; or implement and execute a particular project or campaign. Sometimes marketing consultants will work as facilitators to develop a project scope or act as advisers on a project or plan.  The key area of activity is the marketing project – either developing it and/or implementing it.
A marketing coach works with business owners or managers to develop people rather than a project. The people may be members of the marketing team or the business owner/manager themselves.  The marketing coach recommends strategies and tools and tactics that will work to meet the business's goals – and that's usually to increase leads, improve marketing performance and increase lead efficiency.  Whatever the goals, the marketing coach creates an action plan with the person who is being coached using precisely the strategies needed to achieve the goals.
A good marketing coach will be able to advise what steps to take, when to take them (timing is critical in marketing), and outline what the costs should be. They teach and guide the client on the what, when, why, and how to employ a full range of marketing tools – from SEO and SEM, social media, creating articles and press releases, starting a blog, conducting podcasts, leveraging sponsorships,  developing ad campaigns across multiple channels and understanding and reporting on analytics. The marketing coach helps the client find highly successful strategies that can be leveraged again and again. The important difference between this approach and marketing consulting is that the implementation is done by the client with the guidance and encouragement of the marketing coach.
What's the role of marketing training then?
Marketing training is for honing up on a skill or getting a foundation. The training is often the kick starter to deeper learning. For the motivated among us the deeper learning will happen in a self-directed way but while we may continue to learn independently, application can be challenging.   This is what I observe; after a person attends one of my training sessions they get all fired up – truly motivated to put into practice what they have learnt.
Then they go back to the office…
where the motivation to implement the learning dissipates because there are a myriad of things screaming out for attention. Over time, implementing change just gets too difficult because it's too hard to remember the concepts and techniques you were taught in the workshop. You look back over notes but critical bits are missing. It's easy to understand why a plan to implement learning gets shelved.
Can a business work with a marketing coach and a marketing consultant?
The marketing consultant is not the same as the marketing coach, although some marketing coaches do offer consultant services as well as coaching. Many businesses hire an agency/ consultant and a coach. In my experience the agency appreciates the coach, because the coach helps the client be more active in the client/agency relationship leading to better results all round.
What are the characteristics of a good marketing coach?
The best marketing coaches provide the benefits of wisdom, connections, resources, and experience to save time and expensive mistakes. A marketing coach who is also a marketing consultant comes equipped with a tested arsenal of resources and supplier contacts – from software to developers, designers, analysts and so on.
A top-notch marketing coach should have experience in a range of industries, so she can bring ideas to the client that work in a variety of market segments. She'll also bring experience into the "marketing plan" stage of the process, establishing which strategies and marketing (or management) tools will help drive the bottom line.
How do I ensure a good fit with my marketing coach?
Before hiring your marketing coach, you want to make sure that he/she has a solid track record in marketing communications. For example, you want to know that they understand SEO and SEM, that they've built websites, written articles and blog posts, created ad campaigns, managed business social media accounts, created sales materials, produced events, and so on. You should have a good sense of this from reviewing a coach's experience, checking references, and after your first meeting when hearing her advice.
I believe it's also crucial for clients to have easy access to their marketing coach. You may need a second opinion on a proposal you're about to send out, a design brief, a blog post or ad campaign. You need a coach who can respond reasonably quickly so you get help at these critical junctures. Ask your coach how they would handle your requests – both from a time and money perspective.
What can you do to make sure you get the most value from hiring a marketing coach?
Implement the strategies you and your coach agree on so you can generate results.
Ask your coach any marketing question you don't have the answer to.
Write a list of questions prior to your meetings. Be on time and prepared for your meetings.
Record action points from your meeting to help remind you of what needs to be implemented and record your session so that you can review the audio at a later time.
When you get stuck on something, or could do with a second opinion, contact your coach immediately – don't wait.
How do marketing coaches usually bill?
The price of coaching really varies. It usually depends on the qualifications and experience of the coach and how much in demand they are. Some coaches do single sessions that range from a couple of hours to a day – others ask for a commitment to a program over a period of time at a fixed cost either per month or for the agreed period. For me, this is preferable as it provides the opportunity to generate greater results for the business and radically increase the skills of the client. It also allows the client to benefit from the coach's expertise in the range of challenges and problems that come up over time.
It's not usual for the marketing coach to do a pay-for-performance or commission-based arrangements. The coach is not in control of company staff, marketing execution, management, or finances, – the business performance is dependent on the client following the advice of the coach.  It's like with my personal trainer; if I don't do the exercises I agree to do, I won't get the fitness. That's on me, not the coach.
If you're wondering if hiring a marketing coach is right for you, come talk to us. We can also put you in contact with others who have hired a marketing coach so you can hear directly from them what value it's brought to their business.