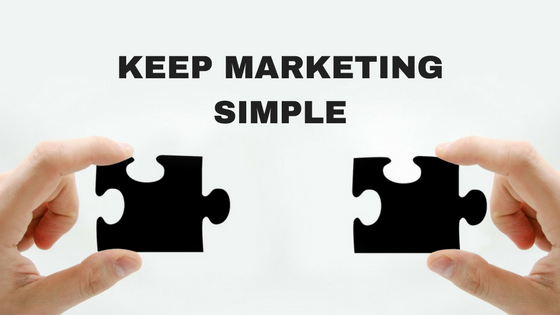 A lot of people have spoken to me recently about their desire to keep marketing simple.
Like the 'head in hands' type of chats where the body language shows that it's all got overwhelming.
Now, I'm a fan of simplified simple marketing. And I know that it's not that easy to achieve. But if we drill down from a digital advertising point of view to keep marketing simple – what do we really need?
Here's my drilled-down 5 steps:
Be found in search
Have a website or landing page that tells people clearly what's on offer (product, services, contact details) and what's the value for them (value prop expressed as benefits) with Facebook Pixel tracking installed
Build email list
Strictly maintain your customer data in one place (CRM/excel spreadsheet) and care for it
Create and distribute content and promotions
Putting these steps into a plan to 'keep marketing simple' might look like this:
Build your keyword focused content and structure your webpages for your keywords
Always-on Adwords campaign/s for main keywords
Maintain a simple website with an easy-to-use CMS
Create an opt-in or two that is valuable to your audience (opt-in is content such as e-book, webinar, customer-focused monthly publication, etc that your audience will trade an email address for).
Design a promotion that will enthuse your audience/customers
Promote opt-ins, promotions, and valuable content (hosted on your website – aka 'homebase') to prospects and customers via your distribution channels such as Facebook (and its platforms including Insta), segmented and personalised email, Google display
After that, it's all about frequency and format; how often do we do these 5 steps?
Do we need to create more video?
Do we need more good images?
Can we write good copy?
Frequency and format questions are answered by resources and budget.
A big team (in house or outsourced) means increased frequency and often, but not always, diversity of format.
A small team or a one-person team with a small budget can achieve these things simply, just less frequently.
To keep marketing simple means having a plan about when and how you are going to execute the 5 things.
It's about making decisions about frequency and format. And of course once it's in a plan, it should feel more simple. I know that for some businesses, like complex B2B with a range of intermediaries, the marketing can be anything but simple. However, the principles of the five things apply to pretty much any business.
How are you going with simplification?