Facebook Metrics Update: What it means for advertisers

Facebook has made some changes to the way its metrics are reported that will change the way you see your ad results. The changes are being rolled out from March 14 and, up until April 13, you will be able to switch between old and new Facebook metrics. After April 13, you will only be able to view the new Facebook metrics.
The last Facebook metric update was back in November 2016 and this recent update continues along the same theme of helping advertisers understand metrics and improve performance but with some significant developments. The main thing is about transparency. Facebook will now be labelling some metrics with "estimated" or "in development" or both.  Facebook says that advertisers needed to be clear about which metric was an estimate and which were directly measured.  For metrics 'in development' Facebook says it's experimenting with the presentation of this data.
The Facebook metrics labelled as estimated are using sample data rather than direct measurement. The Reach metric is now labelled as an estimate, as is People Taking Action and Frequency, as well as others. Amount spent is also an estimate but not because it is based on sample data, but a calculation that includes all "cost per.." and if your ad is still running it can take up to 48 hours to for results to be processed.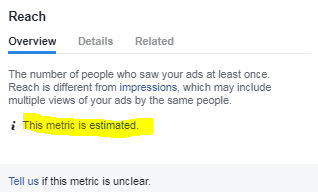 In a clean-up that will happen in July this year Facebook will be removing 20 metrics that it says are "redundant, outdated, not actionable or rarely used". Here's the full list of what is being removed.
The other change you'll see is a naming change – once again an effort by Facebook to be clearer about what the metrics mean. See here for the full list of Facebook metric name changes.
Facebook is also launching a new initiative called "measure what matters", an education program to help both brand and direct response advertisers. As yet there's no detail about what this program is going to look like. I'll be sure to write a post about it when more is revealed. The change to Facebook metrics comes on the back of changes to Ad Manager and previous to that changes to the Newsfeed Algorithm. It's going to be quite a year, if changes continue at this rate.